Jose Mourinho has put the price tag on star player Eden Hazard, £100m for each leg along with Cristiano Ronaldo.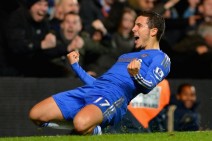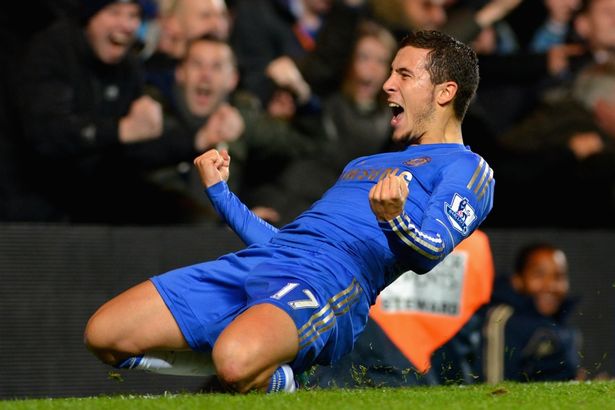 Recently, Real Madrid legend Zinedine Zidane praised the Belgium and made intention clear saying Real Madrid are observing Eden Hazard.
Eden Hazard favorites to win the PFA player and young player of the year award. which will be declared on Sunday evening after Chelsea take on Arsenal at the Emirates.
Chelsea are two wins away from winning the Premier League award. Chelsea winger signed a new 5-year deal to relieve Jose Mourinho and the fans.
Jose talking to the media said, £100m? 'Plus one of Real Madrid's three best players,' said Mourinho, before reconsidering and putting the price up. '£100m each leg, because he's very young, so £100m each leg.'
'We have a very good squad and we have a very good team ethic,' he said. 'We are not the kind of group that is looking for somebody to be special; for somebody to be more than the others. This is not our culture.'
'There's that sense in other cultures where there is individualism and somebody that is more important than the other,' he said.
'Here, this is not our culture. I think even he [Hazard] doesn't belong to that culture, too. He knows that he's a special player for us and that we need him on many occasions to be decisive for us but he's such a normal boy that he doesn't belong to that glamour. He doesn't belong to that.
'He wants to be a special player and a normal person. In football, a lot of the culture now is being a special player and a special person. This is not him.'
'The Premier League title is what gives you more credit. It's not the individual awards, it's not the comments from the pundits or the former stars. What gives you credit is the title. If we win the title he knows that he was fundamental in the team season. This is what he deserves. He deserves to be champion. This is what he deserves.
'He's a fantastic boy, a fantastic boy. A golden boy. The way he behaves, the way he wants to be, the way he respects people, even the way he respects opponents. I don't think you can have one opponent who can say, "He insulted me, he made fun of me, he played with his shoulder when he was winning 5-0, he did 20 step-overs in front of me". Nothing. He doesn't cheat. He doesn't dive. Nothing. So I think, even for opponents, I think he's a fantastic kid.'