In the second match of the second day of the World Cup 2014 quarter-finals one of the biggest surprise , Costa Rica will look to extend their history against the European team, Netherlands.
Match info
 Netherlands – Costa Rica Live Stream
July 5, 2014 • 9:00 PM • Itaipava Arena Fonte Nova, Salvador, Bahia
Referee: R. Irmatov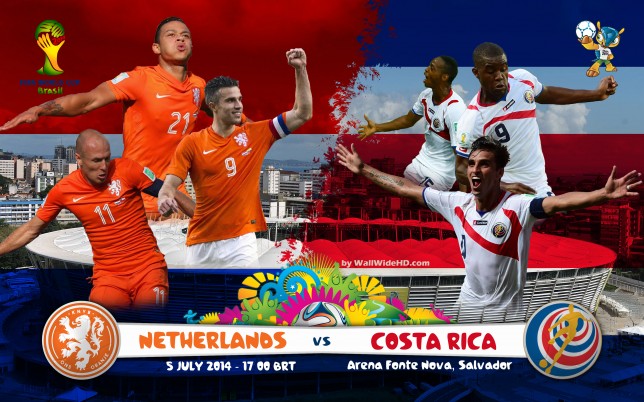 Costa Rica in the group stage with three former World cup winners manage to seal the first place and make history. But the Central American side, didnt stopped as they knocked the former European champion, Greece to set the clash with the Oranje.
"We do not want to stop here."
"The Costa Ricans believe in the miracle. I've had a very difficult task to keep the seriousness of my players after the historic success at the World Cup."
"We didnt relaxed after this success, and we do not want to end our campaign at the World Championship. I have faith in my team, the momentum is on our side," said Costa Rica coach Jorge Luis Pinto.
"This match is like a final for us, but we do not want to stop here," added the captain of Costa Rican Bryan Ruiz.
Van Gaal's side after claiming the group first place above Chile and a former World and Europe champion Spain, knocked the Mexicans with a lot of problems before securing the quarter-finals stage.
Van Gaal: Costa Rica is not a by accident in the quarter-finals
The Dutch are aware that Costa Rica have not accidentally reached the quarterfinals, but do not run away from the role of favorites …
"Costa Rica is a formidable opponent, because otherwise they would not reached the quarter-finals. It Expects us a very challenging game in which we need to give our best in order to reach the semifinals, said Louis van Gaal.
"Being a captain of this team makes me very proud. It's A great honor to be at World Cup and at this stage be a team captain. We have an excellent atmosphere in the team and a great coach. I do Believe that we can beat Costa Rica and progress to the end," added van Persie.
Netherlands midfielder Nigel de Jong insisted on Friday that his team "should not underestimate" Costa Rica in the 2014 FIFA World Cup quarter-finals on Saturday, while coach Louis van Gaal said that although the goal was to be world champions, his side are "not a fantastic team but we are a team that is very difficult to beat."