In replay of the Champions league Final Real Madrid and Atletico Madrid will once again clash but this time in the Spanish Super Cup. Simeone's men certainly will be looking for a revenge of the Champions league final defeat, while Real Madrid led by Cristiano Ronaldo will try to win their second trophy this season, after they already won the Uefa Super cup with a 2-0 over another Spanish team, Sevilla FC.
SPAIN SUPER CUP
Real Madrid vs Atletico Madrid Live Stream , Preview, Lineups
August 19, 2014 • 22:00 • Estadio Santiago Bernabéu, Madrid
Referee: Javier Estrada Fernández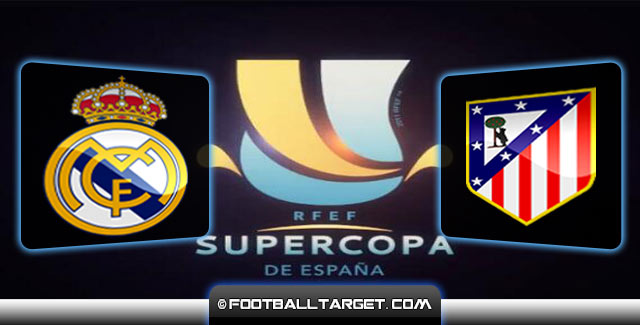 Madrid last season was the most successful football city, not only in Spain but also in the world. Real and Atletico shared all domestic trophies whereby Atletico surprisingly took the league title, while Real had to settle for the cup and Champions league.
Compared to last season there were some in both teams, but the "backbone" of both teams remained more or less unchanged. Real Madrid have made ​​several spectacular transfers such as bringing James Rodriguez, Toni Kroos and Keyla Navas while club have left the last season's first goalkeeper Diego Lopez, and less significant striker Alvaro Morata.
Atletico last season left the first striker Diego Costa who moved to Chelsea, and together with him in the English capital left and the left-back Filipe Luis.
Among the important absences worth mentioning is return of the goalkeeper Thibault Courtois to Chelsea. However, in all places Atletico are well reinforced, and thus they brought another GK Jan Oblak (Benfica) and Miguel Angel Moya (Getafe), Cristian Ansaldi (Zenit) and Guillherme Siqueira (Granada) both side-back, strikers Mario Mandzukic (Bayern) and Raul Jimenez (America Mexico). However, the most expensive transfer was the left-wing Antoine Griezmann who came from Real Sociedad.
Carlo Ancelotti is normally talkative coach, but at the last conference before the Supercup he gave several rather short answers.
Goalkeeper?
– Caillas will play against Atletico. In the first round of the championship I'm not sure who to send to the goal.
Di Maria?
– I do not wanna talk about it, because ahead of clash with Atletico we should not be wasting focus with such things.
James?
– He do not miss anything. He changed his team, friends, coaches and of course he would need time to adjust to us, but I'm happy with him.
Diego Lopez?
– We wanted to keep him at the club, but he wanted to go
Tactics?
– We'll play the same way as last season. Of course, during the meeting something may change, but the general idea will remain identical.
Atletico last season won the tenth La Liga title , and until the end Atletico's coach Diego Simeone was saying that the favorites for the title are Real Madrid and Barcelona. Judging by the statements of Mario Suarez such statements will not be change this season:
– Real in Super Cup is an absolute favorite, and I say this because of the transfers that they have made this summer, but also because the Los Blancos are still a current champion of Europe.
Two very tough matches are expecting us against opponents which we know well, but who also knows us. We have our chances, but we'll have to play a concentrated game and do fewer errors.
The good news for Diego Simeone is that as for today's match he can count on all players.
Team Probable lineups
Real Madrid : Casillas – Carvajal, Pepe, S.Ramos, Marcelo – Modrić, T.Kroos – Bale, J.Rodriguez, C.Ronaldo – Benzema
Atletico Madrid : Oblak – Juanfran, Miranda, Godin, Insua – Gabi, M.Suarez – Koke, Raul Garcia, Griezmann – Mandžukić