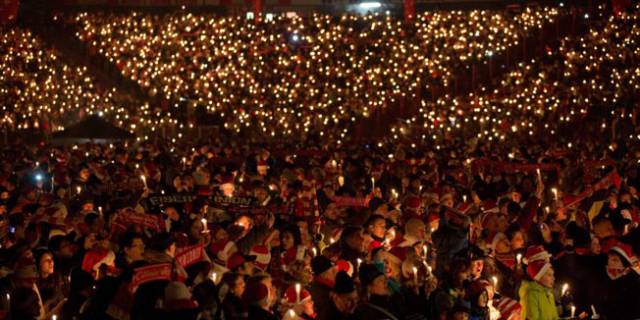 A unique event goes every year on Christmas Eve in Germany. Over 27,000 fans of Bundesliga 2nd league club, Union Berlin were celebrating Christmas this year at Stadion An der Alten Forsterei.
This Tuesday, 27,500 people were holding candles and singing Christmas songs to enjoy the festive season. The stadium was full – from the stands to the field.
Alongside singing and handling a candle, the supporters were also wearing the Santa hat – creating a great atmosphere and panorama.
This kind of tradition from the mid-tabled club fans started 12 years ago, with only 87 participants.
Check the atmosphere from 27,500 Union Berlin fans in the VIDEO below :