The news that we brought on Monday now it's offcial. Real Madrid appointed Rafael Benitez as their new coach, replacing the sacked Italian Carlo Ancelotti who most likey will take a fallen giant AC Milan.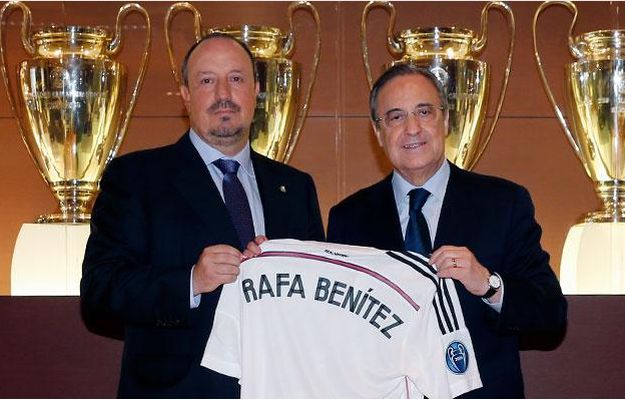 Image:Real Madrid
Benitez has finally signed a contract with the Blancos which ties him to the Spanish capital until the summer of 2018.
Benitez takes over at the Bernabeu following the exit of Ancelotti, who was relieved of his duties after failing to win either the Champions League or La Liga in 2014-15.
The 55-year-old Benitez who started his coaching career in Real Madrid (B) has won the Champions league trophy in 2005 with Liverpool, Europa League (UEFA Cup) and La Liga with Valencia in 2004 and the European League with Chelsea two years ago, while this year in the semi-final stage with Napoli was knocked by Dnipro.
Benitez on his job as Real Madrid manager: "It's an exciting day because I'm back home again."
"I hope to win titles and play well. This is the hardest part, when you have to speak but don't know what to say. It's a very exciting day for me. I promise to work with dedication. I hope we can repay the confidence placed in us."
Questioned about old manager records, he said, "Players should show their love for Carlo after what they've been through together," he added. "I talked with Ancelotti and I wished him the best. Mourinho's Madrid, or Ancelotti's Madrid? I like a Real Madrid that wins and plays well. I shouldn't try to be like other coaches, I'm thinking about the future."
Rafa Benitez' press conference (soon on english)

Career of Rafael Benitez
Clubs
1986-1995: Real Madrid academy
1995-1996: Real Valladolid
1996-1997: Osasuna
1997-1999: Extremadura
2000-2001: Tenerife
2001-2004: Valencia
2004-2010: Liverpool
2010-2010: Inter Milan
2012-2013: Chelsea
2013-2015: Napoli
2015- Real Madrid
Trophies
– 1 Champions League (Liverpool 2005)
– 1 Club World Cup (2010th Inter)
– 1 European Super Cup (2005 Liverpool)
– 2 Europa League (2004 Valencia, 2013. Chelsea)
– 2 league titles (2002 and 2004 Valencia)
– 1 FA Cup (2006, Liverpool)
– 1 Copa Italia (Napoli 2014)
– 2 Italian Super Cup (2010 Inter, Napoli, 2014)
– 1 FA Community Shield (Liverpool 2006)