Pre Match : Portugal vs Sweden Preview,Team News, Live Stream,Lineups World Cup Qualifying – Uefa
November 15, 2013 7:45 PM GMT
Estádio do Sport Lisboa e Benfica (da Luz) — Lisboa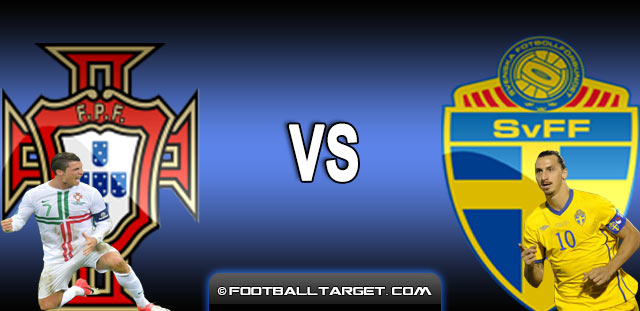 Portugal host Sweden in Lisbon on Friday, in the first leg of their FIFA World Cup playoff match, with a place in the 2014 World Cup in Brazil on the line.
Two of the best strikers in the world are likely to take centre stage with Cristiano Ronaldo expected to face off against Zlatan Ibrahimovic.
Both teams enrolled six wins in their groups, but Portugal won one point more. Still, Portugal had a little weaker group.
These two selections have met in qualifying for the last World Cup and then both matches ended with the same score , 0-0 . The last friendly match between these teams was in 2004 , and finished with a draw, 2-2 .
Portugal seems to be subscribed for their place at World Cup trough barrage, considering that in recent years for the third time they need to "fight" for their placement at World Cup competition through these two stressful matches.
The previous two times a draw gave them match against selection of Bosnia and Herzegovina against which both times they were successful , and now they really have a lot more difficult task , especially due to a rematch in Sweden . Portugal have not lost a single game at home in the qualifiers , but they drew twice and conceded only two goals .
And when they won , it was not convincing , as almost all of their opponents caused them some problems , and the first place was taken off from them by Israel , with whom they drew both times .
Midfielder Raul Meireles who has not played the last two matches of qualifications is recovered , meaning the coach Bento would not have much problems about the first lineup , except for the absence of Coentrao. Bento understandably the hopes lays in Cristiano Ronaldo who lately, plays in superb form for Real Madrid.
Swedes have had the misfortune to find themselves in the same group with Germans, and even before qualifying was certain that only the second place could be reachable for them.
Hopes to be the first, briefly revived after a draw in Germany , but the home draw with Ireland and visiting defeat in Austria, have shut down this hope.
At the end and the second was at stake, however, once again their hero, Zlatan Ibrahimovic has taken care of it as he produced a turnover in home game against Austria.
In the last match of the group, Sweden had lost at home to Germany, but that didn't decided nothing and Ibrahimovic did not play.
Everything in the game of Sweden revolves around the great PSG attacker, who is currently in top form, and again the biggest hope and "backbone" of Swedes.
Selector Hamren doesnt have any major problems with the team (injuries) , so the starting lineup is quite certain, and that are the players who carried the most in the qualifications group stage matches.
Team Lineups
Probable starting lineup of Portugal: Patricio – Almeida, Pepe, Ricardo Costa, Antunes – Meireles, Veloso, Moutinho – Nani, C.Ronaldo, Helder Postiga
Probable starting lineup of Sweden: Isaksson – Lustig, Nilsson, Antonsson, Olsson – Wernbloom, Elm – Larsson, Kacaniklic – Elmander, Ibrahimovic